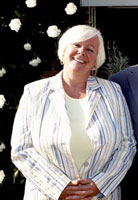 ANN WILDMAN

Ann was brought up with dogs and they have indeed played a huge part in her life. She says she cannot remember a time ever when they did not have dogs and when young, believed the tale told to her by her grandmother, that she was born in a whelping box.
Her earliest recollections are, of sitting in a whelping box with a Boxer bitch and eight puppies whilst the bitch systematically growled and then licked her face in an endeavour to get her to move away. After that she was not allowed near the pups but she always found a way to pop in and see them as she was drawn to them like a magnet!
Ann started off very young, accompanying her parents to the local training class and doing obedience as a child. She was quite good at it too and when her parents stopped doing the Working Trials, Tracking, and Obedience, so too did she. She started to show Boxers and later progressed into Bulldogs: a breed she adored and longed to own since the age of eight.
Ann's first Bulldog, Slim, aka Byrony Rose at Wildax was an exceptional character and adored by everyone who met her. She was a showgirl with lots of attitude and made up to Champion at a young age. She was Top Bulldog one year and won the Champion Stakes in the 1980's, she then went on to breed champions and was a wonderful foundation bitch.

Ann stopped showing dogs in the UK for a couple of years when she went to Australia staying in some of the top kennels over there, working, showing and indeed winning with their dogs. In all she spent nearly two years in Australia and at one point was thinking of settling there. She then travelled extensively before coming home, finishing college and going on to University.

Ann now has French Bulldogs as well as one Boston Terrier and one Bulldog living with her of which Champion Wildax Miss Moneypenny, Top French Bulldog 2009, 2010, 2011, 2012 and Best of Breed at Crufts 2014 rules the roost. Ann has been delighted to accept when invited to judge abroad, officiating in Russia, Spain, Latvia, Holland, France, Ireland, Italy, Germany and Belgium many times. Ann was delighted to Judge French Bulldogs, Boston Terriers and Bulldogs in 2015 in Japan and also in Queensland Australia.

She currently awards CCs in Boxers, Bulldogs, Boston Terriers and French Bulldogs, she is also on the A3 list for Akitas, although she judges many other breeds and Best in Show at Open Show level.